Barnet council approves application for final stage of regeneration scheme
Housing association giant L&Q and partnerships housebuilder Countryside have been given approval for the remaining phases of their regeneration of the Dollis Valley Estate in Barnet.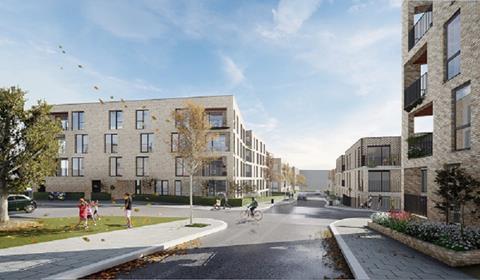 L&Q and Countryside are set to go ahead with a project to build 223 new homes in phases four and five of Brook Valley Gardens. These consist of 105 houses and 118 apartments, with 95 for affordable tenures. The houses are three or four bedrooms while the apartments will be provided in five blocks all four storeys in height.
The scheme is the remaining phase of the regeneration of the estate under which 436 prefabricated flats in blocks of up to five storeys are being demolished along with a community centre.
The wider regeneration scheme, designed by Alison Brooks Architects, will in total provide 631 new homes, including 230 for social rent, a 417sq m community space, a nursery, open space, landscaping, pedestrian and cycle routes and 788 car parking spaces.
Daniel Layton, managing director, north London, Countryside said: "We are delighted that the next phases of Brook Valley Gardens has been unanimously approved, marking another major milestone and enabling us to continue with the next stage of this important regeneration scheme as we remain committed to creating places people love."
Jacqueline Esimaje Heath, Director of Development Growth at L&Q said: These plans, which include a diverse mix of affordable rented, intermediate and private sale homes – overlooking a beautiful public garden – will make an important contribution to meeting local housing need."
Last week Countryside and L&Q also announced they had agreed a deal with to forward sell 963 homes to Barking & Dagenham Council in a move it says will speed up the 3,000-home Beam Park regeneration scheme in east London.
Source : Housing Today