Cities looking to boost density and affordability should look to the work of architect Louis Sauer, who designed stylish modernist housing in the 1960s and '70s.
To an onlooker, population density can be counterintuitive.
The thumbnail image for American density will always be the towers of Manhattan — and that's not exactly wrong — but many of the densest municipalities in the U.S. boast less impressive skylines: Look across the Hudson to New Jersey towns like West New York, Guttenberg and Hoboken. Huntington Park in California and Somerville in Massachusetts manage to pack in more people per square mile than high-rise-laden cities like San Francisco and Boston, though few buildings rise beyond four stories.
Across a whole city, density can be reliably achieved by ensuring that the squat elements of your municipality contain as many residents as possible. Building lower has political advantages as well: In an environment in which proposals for buildings inches taller than their neighbors are often received about as warmly as the Tower of Sauron, low-rise infill is likelier to escape the rage of the more saturnine fringe of NIMBYs. More practically, they can fit into existing zoning envelopes with greater ease. And when it comes to housing, most people agree we could use a lot more (until a building is proposed next door, but that's another story).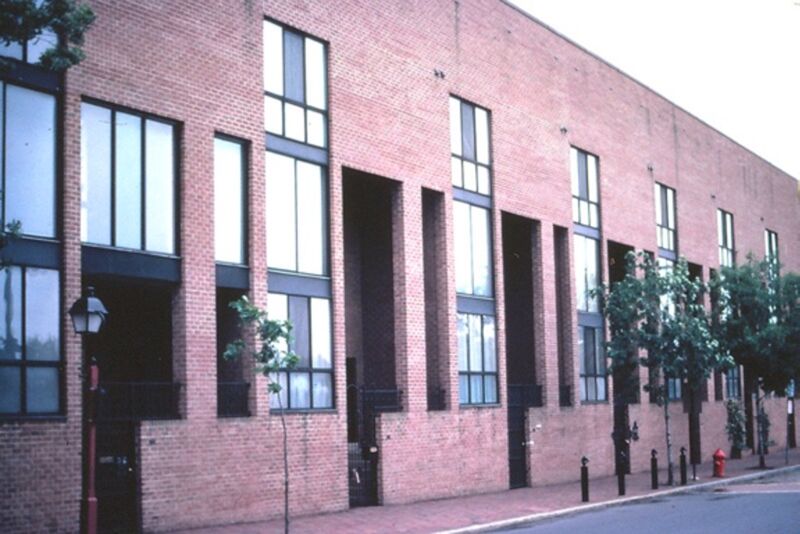 Take Penn's Landing Square, a low-rise housing complex in Philadelphia's historic Society Hill, a neighborhood that underwent extensive redevelopment in the 1960s. Built in 1970, the block-size development holds 174 inhabitants per acre — more than the Upper East Side or Stuyvesant Town. Its architect, Louis Sauer, specialized in high-quality, high-density, low-rise housing during the 1960s and '70s. This category also attracted major architects like Moshe Safdie, César Pelli, and I.M. Pei in passing, but few for any length of time. Today it's a desperately needed style of housing, one in which the U.S. has largely failed to achieve any recent design distinction.
Sauer built scores of bold, modernist-style housing projects in and around cities in the Northeast and Mid-Atlantic, winning six Progressive Architecture Awards, two for private homes and four for townhouse developments in Philadelphia. It's a collection that's unfailingly imaginative and livable. As U.S. cities struggle to build quality housing at an economical scale, Sauer's example could stand imitation.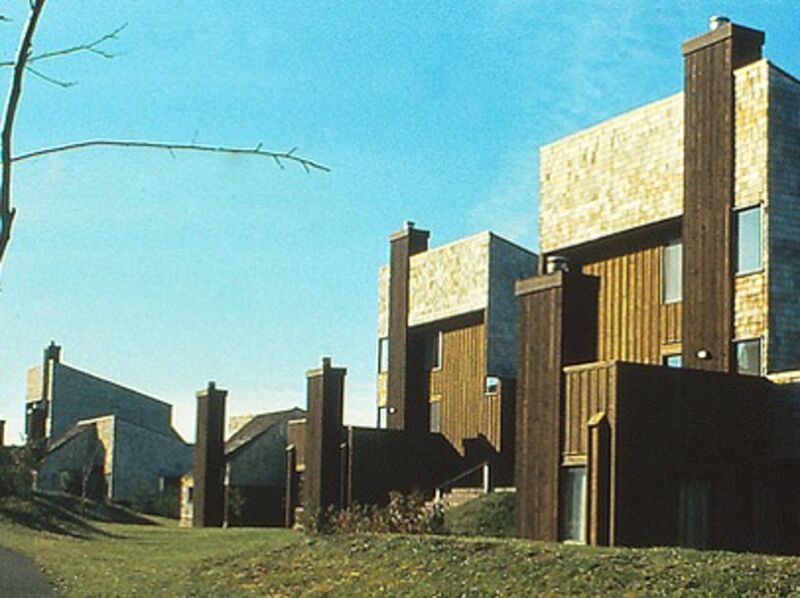 Sauer's interests were different than most: He has disclaimed any interest in "foreground architecture." In a conversation from his home in Tasmania, where he's lived since 2013, the 94-year-old architect told me, "I'm not attracted to big buildings at all; I'm not attracted to the monumental." While he designed a number of high-rises, it was without much enthusiasm. "I think high-rise buildings are the dullest things in the world to design," he said. "You design the ground floor plan, you design the typical floor plan, and you design the elevations, and then you're done. There is no opportunity for site choreography."
Instead, Sauer's work — most of it residential — was more earthbound, starting with the single human residence and then scaling up. "I'm not an architectural poet. I wish I were, but I'm not," he said. "I find designing buildings extremely difficult because I don't have a preconceived form in my head. I don't have an idealized form of what something should be. It's a process of discovery for me to find what the form should be."
An early influence was Institute of Design instructor Konrad Wachsmann's ardor for modular solutions. Standardized dimensions of a 12- or 14-foot width offered a stable frame with still considerable combinatory possibilities. Sauer's other reliable guide was the sense of living in environmental continuity. "I have a drive to always have an interior visually related to the outside — never isolated," he said. "In my own living I can't stand it — it's like being in a prison in solitary confinement."
He came to favor irregular arrangements of units that interpolated private courtyards within "a combination of Zs, Ls, and Ts," which could accommodate one courtyard to the back and one to the front, while ensuring plenty of light. In a game of proto-Tetris, he'd link these shapes to one another in a wide assortment of ways.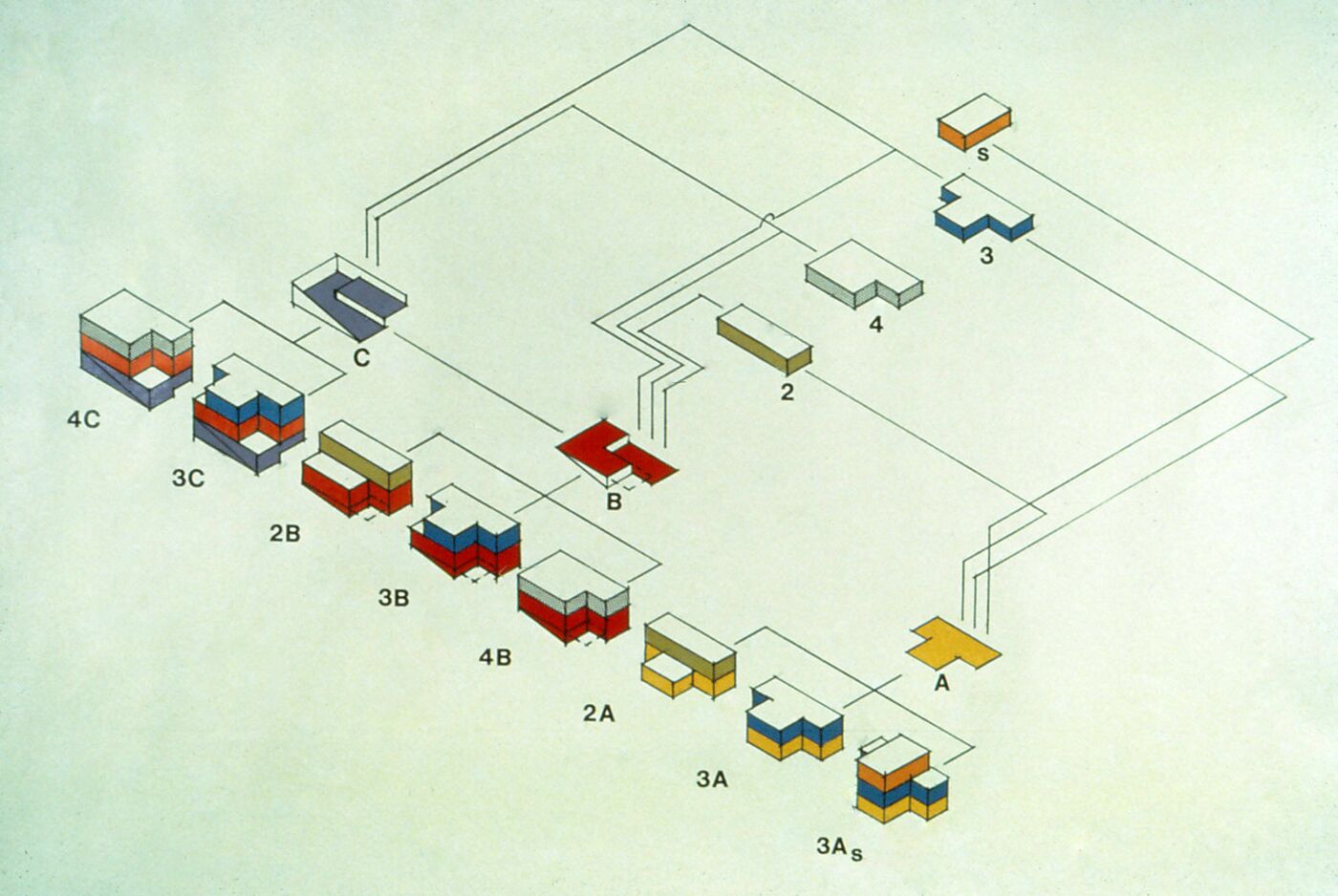 Sauer is a proud modernist — he calls himself a Bauhaus functionalist "through and through" — but he found inspiration from diverse quarters. He had an early fixation on Moorish North African architecture, soon reinforced by Ancient Greek, Medieval Italian, and early Native American models. At a session with the International Congress of Modern Architects (CIAM) in Venice in 1956, he experienced that city's "dynamic sequences of spatial compression and expansion." Sauer's work is similarly full of narrow, wandering streets; you won't find much empty space. (He did express regret that he was rarely allowed to integrate retail into his projects, to engender greater street life.)
While his historically minded arrangements were praised by New Urbanists, who rekindled an appreciation of compact mixed-use urban development, he finds that movement's perspective overly narrow. "They have a passionate understanding that only the past is real, so they consistently look backwards to choose design and aesthetic precedents," Sauer said.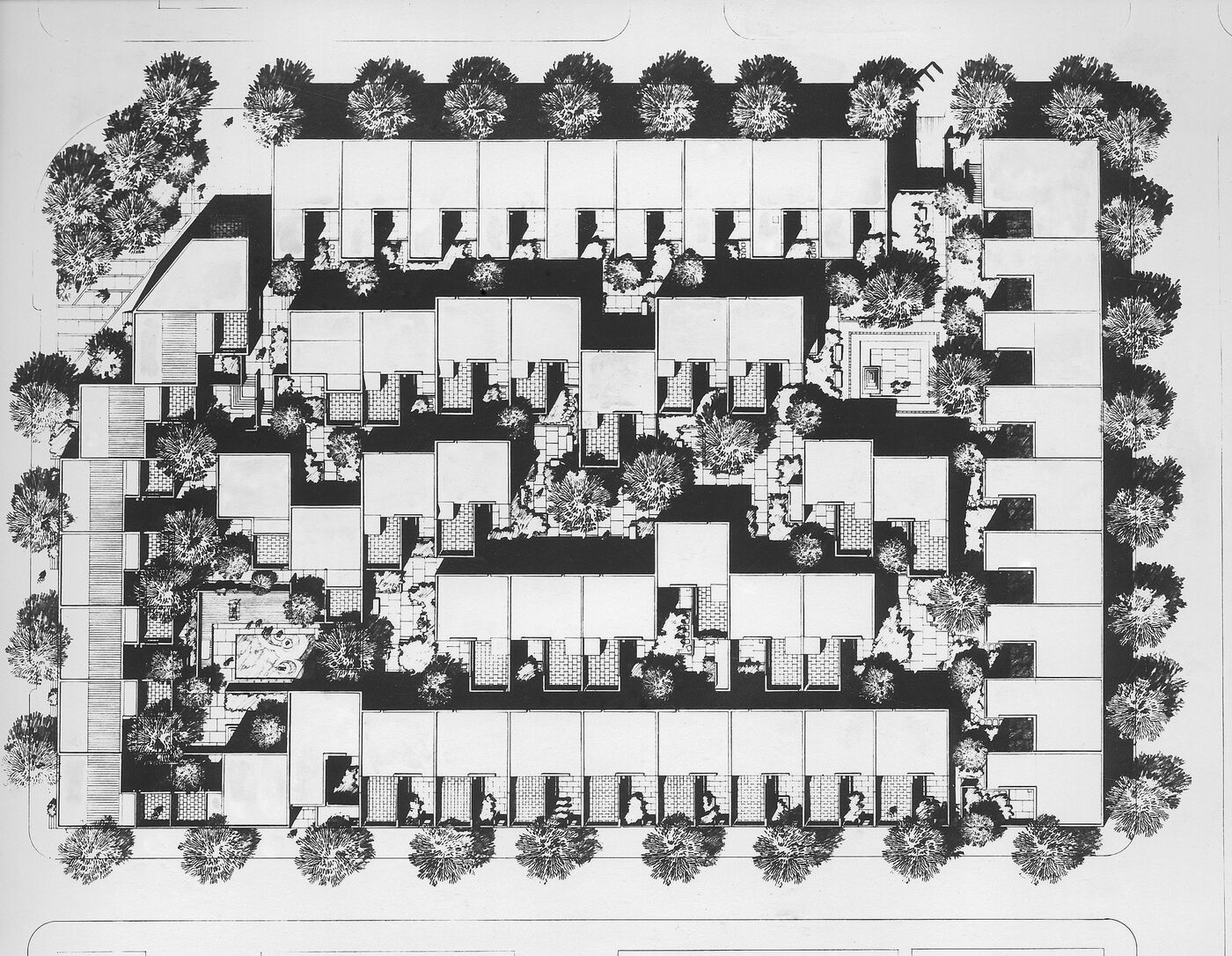 For Penn's Landing Square, Sauer had an entire block site to work with. He initially considered a scheme similar to I.M. Pei's Bingham Court nearby, in which two-story townhouses surround a parking courtyard. Instead, Sauer planned units within the block that don't touch the street at all, lining winding interior routes. He also shunned shared entryways wherever possible, which meant frequent entrances at street level for direct unit entry either into a ground floor unit or up an internal stairway to another unit, as well as unusual floor plans to fit numerous units into his zigzagging creations.
He was mindful of a distinction that many architects of the era had to relearn the hard way in building mass housing: He ensured that a maximum of the realm belonged to somebody: "When a person feels that something is not directly under their control, when it's controlled by someone else, they assume it's not their concern and that someone else should take care of its upkeep," he said.
Sauer dexterously demonstrated how to fit many uses into small spaces, using tricks like window placement. All Penn's Landing units include courtyards, roof terraces or small outdoor spaces that maintain a feeling of privacy because neighbors' windows aren't looking down into them. Similarly, windows generally aren't located directly opposite those of other units.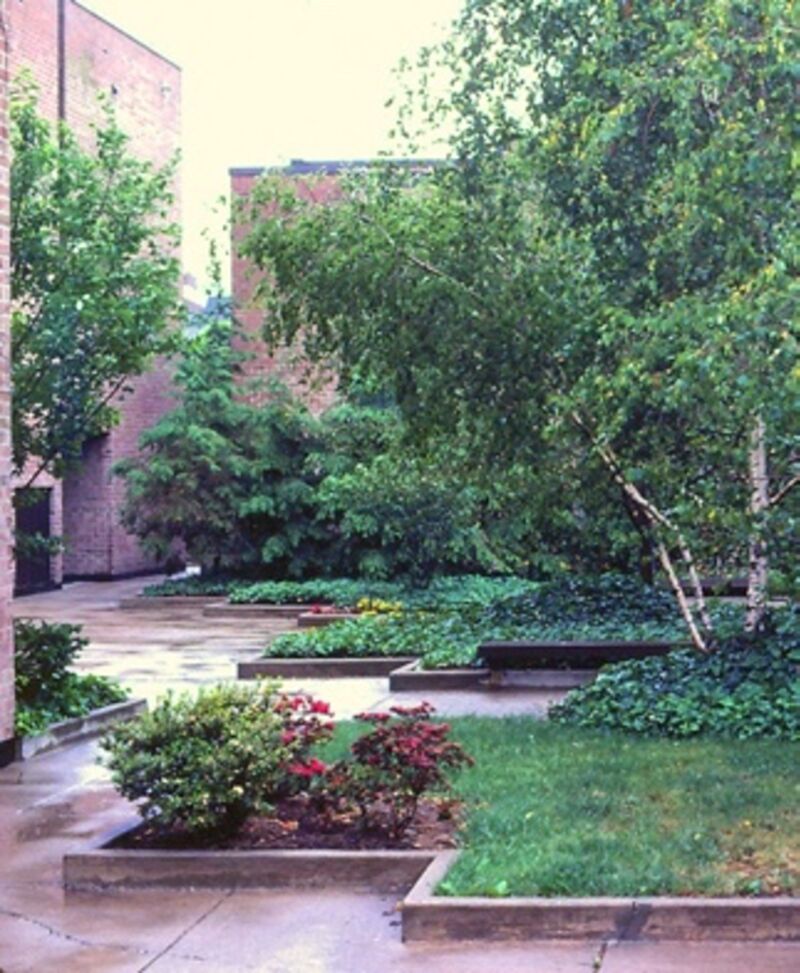 To insert his modernist complex into a neighborhood of 18th century Federal-style rowhouses, Sauer devised three separate facades for four different street fronts, which he says respond to their surroundings without imitating it. In his book Louis Sauer: The Architect of Low-Rise High-Density Housing, Antonino Saggio wrote that Sauer "accepts that by introducing new architecture into an existing block he has to adhere to the rules." But he also "modifies the federal architectural division into three subdivisions; accepting only two of the three elements."
In all, Sauer built 10 projects in Society Hill (including Penn's Landing Square) none of which are Federalist imitations, often featuring asymmetric or unusual facades. They're different enough that you may well not recognize them as the work of the same architect. His Locust Street townhouses, for example, which adjoin the plaza around Pei's Society Hill Towers, achieve a sort of abstracted crenelation with solid brick volumes alternating with recessed window volumes. Roofs often slope to the rear, sometimes to the side; sometimes you can see this, sometimes you can't. He is agnostic on whether buildings should conceal or reveal programmatic functions, and was happy to do both.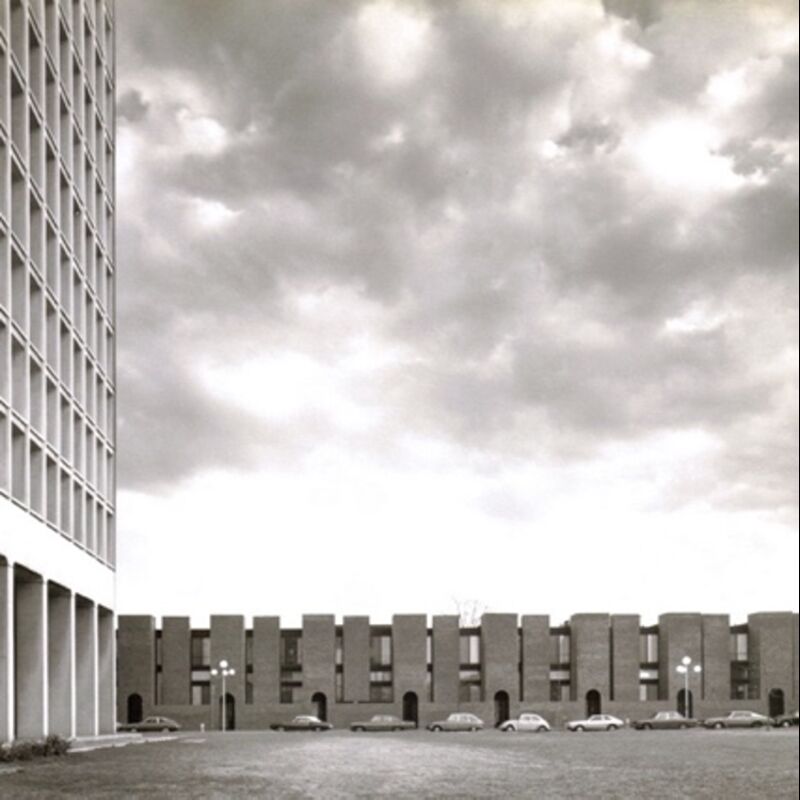 Sauer also addressed the problem of where to put parking — a prime challenge with low-rise urban development. You cannot plot out a Venice, let alone a Society Hill, if you demand street frontage or garages in the front or back of every unit to fit a car. Penn's Landing Square's solution was an underground garage that provided a spot for every owned or rented unit.
Another low-rise project, Harbor Walk in Baltimore's Otterbein neighborhood, offered a different means of minimizing the disruption of the car. As in Philadelphia, the project mixed old and new — some 104 existing historic rowhomes, to be complemented by infill. The site was inauspicious, sandwiched between busy arterials and non-residential uses on three sides. To curb traffic, Sauer succeeded in pedestrianizing a portion of the site's principal north-south street. "I wanted it to be a place, not a thoroughfare," he said.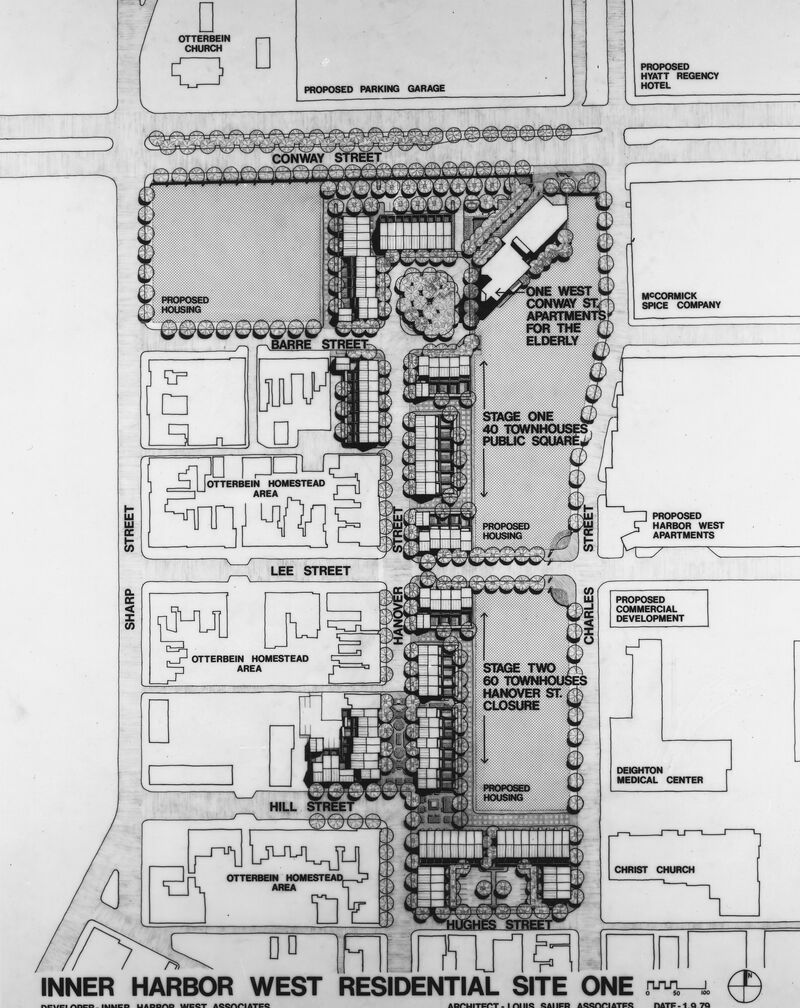 Since there could be no underground garage to accommodate parking, Sauer — inspired by the model of Savannah rowhouses — determined to move life upwards. "I had to get rid of the car and I thought, it's going to be in the back of the townhouse. I'm going to give up the interlocking of private garden space. The ground floor is going to be all utilitarian functions, and normal day-to-day living is going to happen on the second and third floors."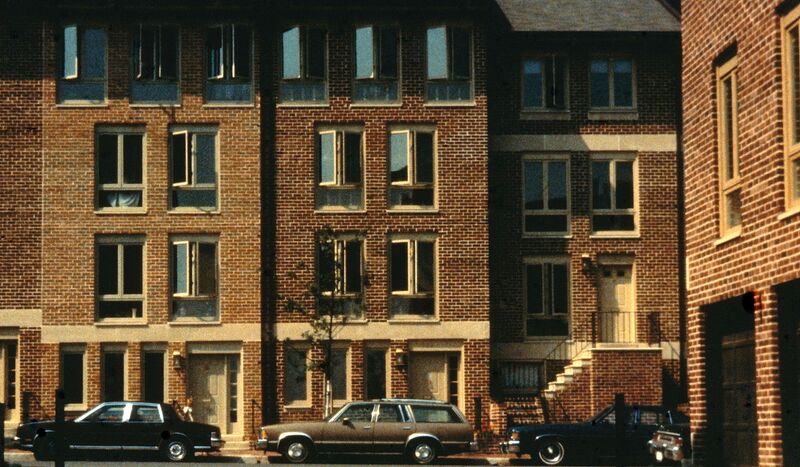 Rear-facing decks adjoin the second-story living rooms accordingly. Sauer also deftly integrated a 12-story high-rise for senior apartments at the northeastern corner of the site, which functions as a gatehouse between the townhomes and the city's downtown. The tower is angled diagonally, designed as an "arrow" with a pedestrian pathway leading to Hanover Street.
Sauer built a number of projects outside of cities; early in his career, he designed an acclaimed townhouse development called Golf Course Island in the planned suburb of Reston, Virginia. "Back then, I didn't have a clue how to organize the site," he said. "In cities, it's easy — you have the street." His solution was to follow the lay of the landscape, accentuating topography while clustering units and maintaining open space. "I responded very differently than [Frank Lloyd] Wright responded to it, by long horizontals — I respond to it more as the movement of the ground and the sloping forms." Angled roofs are more common in these projects, or certainly more visible than in urban sites.
Sauer commissions can also be found in Corning, New York; Scranton, Pennsylvania; Middletown, Connecticut, and more. In New Haven, he designed two social housing projects, Harmony House and Canterbury Gardens. Here, a prime influence on design was simply asking prospective residents how they'd like their homes to be laid out: He moved kitchens to the back of the units when that's where residents indicated they'd prefer to have them.
He built one excellent piece of foreground architecture in the Concourse Fountain along the Cincinnati riverfront: a sculptural concrete composition complete with "water chimneys." His private homes are also excellent, with particular standouts being the McClennan House in Society Hill, and the Hamilton House, built inside the remnants of the ruins of a mill in New Hope, Pennsylvania.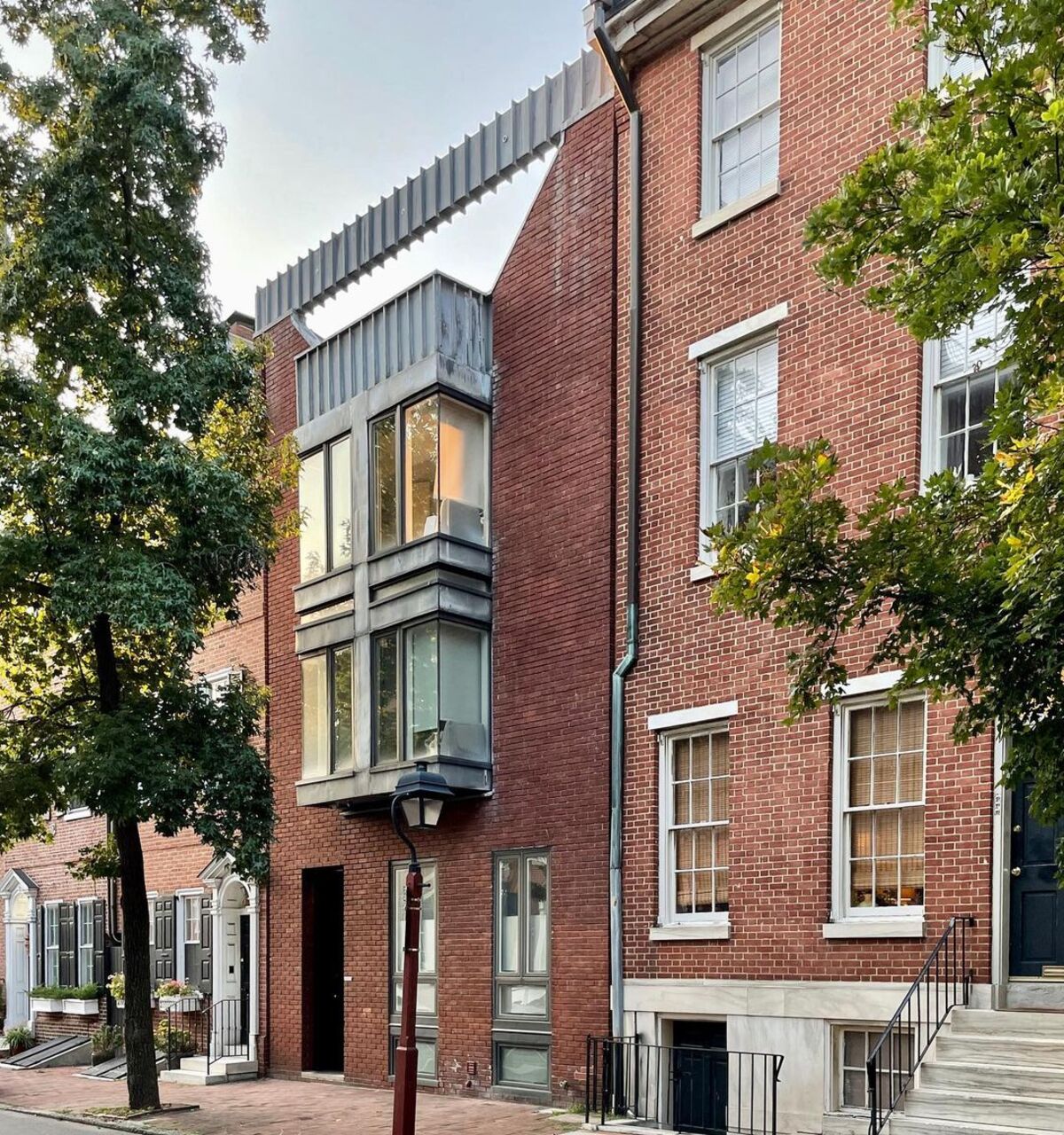 Despite his distinguished body of work, Sauer found himself frustrated in the field by the late 1970s, and he closed his office in June 1979. "My passion for design had somehow disappeared — my muse left me," he told me. "I felt like I had been made into a commodity; I couldn't stand it. I was furious with my low fees and the profits I was making the developers. I was absolutely furious at the inequity of it."
Sauer later moved into a number of academic posts, serving as head of Carnegie Mellon's Department of Architecture and as a professor at the School of Environmental Design at the University of Colorado at Boulder. There he successfully advocated for relaxing zoning restrictions on a very unloved but economical form of modular housing — mobile homes. He was also involved in cooperative housing efforts, which he finds promising if obviously difficult to launch. After retirement, he moved to Melbourne, Australia, in 2000 and then to Tasmania in 2013. He's written a memoir in recent years, which you should publish, if you happen to be a publisher.
When I asked him if he thought there were any architects now doing good work in the field of low-rise affordable mass housing in the U.S., he said no. "That's probably because of architects being repelled at the low fees that we're paid by developers for doing housing developments. It's a real turn-off."
Sauer also criticized the U.S. building industry itself as an obstacle to creating more affordable housing. "There is a very strong structure to the building industry and it's tightly controlled by all the various sectors of the on-site residential development and construction industry," he said. "It's against mass production; it's against manufactured housing."
He was left with a sense of the inadequacy of his own — or any architect's — work in addressing the underlying issues. "You're not going to solve housing through architecture; if you're going to solve insufficient and costly housing, you do it through financing. You do it through economics, national policies, not through architecture or urban design."
Could an architect succeed today in inserting such dramatic shapes into older residential neighborhoods? Sauer's work was hardly sedate townhouse infill, and yet he says that his designs were very rarely questioned by his clients, because he paid close attention to economies of building.
"Early in my career, my first developer client taught me all of the things that an architect could do that would cost them money and all of the things that I could do to enhance marketability," Sauer said. "When I designed, I incorporated those principles. They never questioned me, ever, about aesthetics. Never anything about site-planning, ever. I had total, complete freedom. Wasn't that wonderful?"
Source : Bloomberg CityLab